January - February 2010
Baptism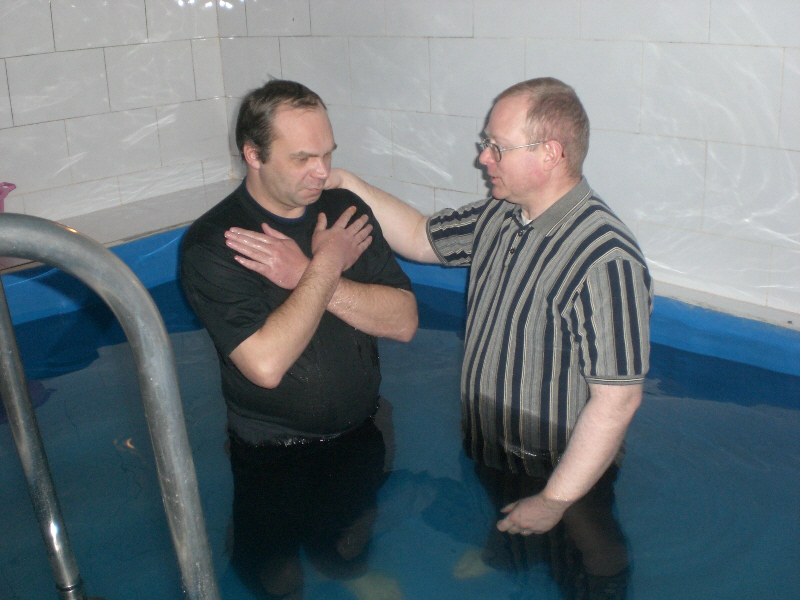 Victor received Christ as his Savior in November. I taught him about believer's baptism, and in January, he decided to take that step of obedience, testimony, and identification with Christ. He is a great new convert, with lots of excitement about growing spiritually.
I was invited to speak again at the state university. I spoke to about 60 students about "How the US Constitution is based on Bible principles". I gave them Gospel tracts and creation science videos.
We had a tremendous surprise a few days before the New Year. The doorbell rang, and a voice on the security intercom from the apartment building entrance said, in Russian, "Open the door, please." I was irritated that some Russian girl would bother us late at night like this to open the door. I assumed that she had forgotten her key. I did not open the door, but I told my wife that this Russian girl's voice sounded just like our daughter, Cindy, who lives in America. The bell rang again, and the same voice repeated the request. I opened the door just to avoid being bothered again. A minute later, our daughter Cindy arrived at our door! She had flown all the way from America by herself to surprise us and spend a few weeks with us! We had a wonderful time together. She arrived in time to help us host the church people in our home for a Christmas/New Year's party.
We have paid $44,200 for our church building, which is about 85% of the loan amount. You may want to help by sending a gift to: BIMI, P.O. Box 9215, Chattanooga, TN 37412. Designate it for "Ossewaarde - Project Russian Church Building".
In the service of the King,
Don Ossewaarde