March - April 2010
An Anniversary in Russia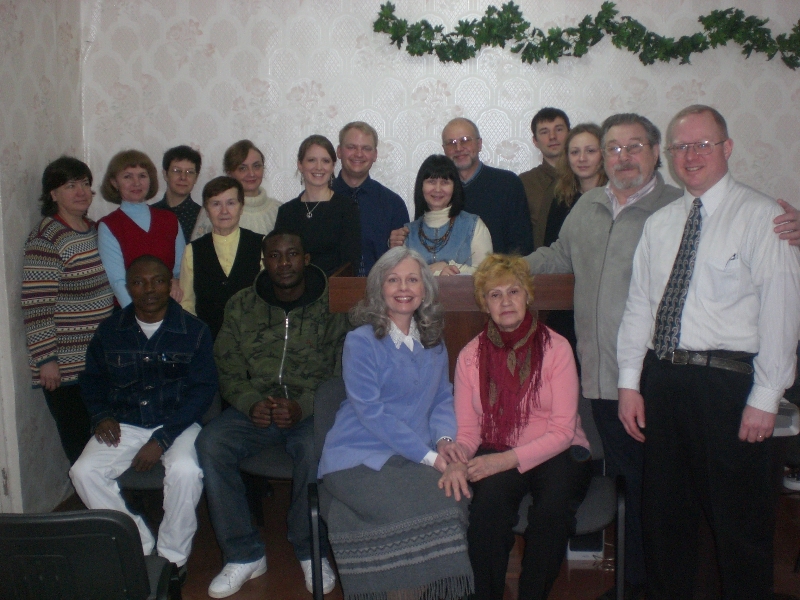 When our son, David, was married last year, we determined that it would be a good thing for him and his wife, Audrey, to visit us in Russia. It worked out for them to come and celebrate their first wedding anniversary with us. They stayed for two weeks and we had a great time together. (They are the smiling young couple in the center of the back row of our group of church people.) David remembered enough Russian to lead the singing in our services and sing some duets with me. We wanted Audrey to see the places where David had lived when he was growing up on the mission field, so we traveled to Ukraine. We visited our missionary friends in Kiev and Simferopol. I was invited to preach at the church in Simferopol.
Our church people are growing in the Lord. Sveta was blessed with a new job, so she can attend more services. Victor is trying very hard to quit smoking. Alex broke his foot at work, but it seems to be healing well. Kevin, a student from Africa, has brought several of his friends to our services. We have had several first time visitors - Ignatius, Charles, Tatiana, Richard, and Vera. We had a sweet Easter Service. Ruth put up special decorations with Resurrection verses.
I was invited to speak to a group of about 30 students in a local high school. They are studying English. The teacher told me to be careful not to say too much about "religion", because Russian law requires parental permission to teach religion to children. We talked about America, and I told them what a missionary does in Russia. Many of the students recognized me, since we live in the same neighborhood. I told them to be sure to come up and say hello when they see Ruth and me in public, so we can give them "more information".
We have paid $45,500 for our church building, which is about 88% of the loan amount. You may want to help by sending a gift to: BIMI, P.O. Box 9215, Chattanooga, TN 37412. Designate it for "Ossewaarde - Project Russian Church Building".
In the service of the King,
Don Ossewaarde