We lived in Ukraine for 3 1/2 years before we moved to Russia, so we have a lot of missionary friends there. When we heard they were having a youth camp in Cherkassy, Ukraine this year, we traveled "south of the border" to participate.
On the road again
On the first leg of our trip, we take a three hour ride to Bryansk on this commuter train, or "electrichka". There we will catch an overnight train to Cherkassy, Ukraine.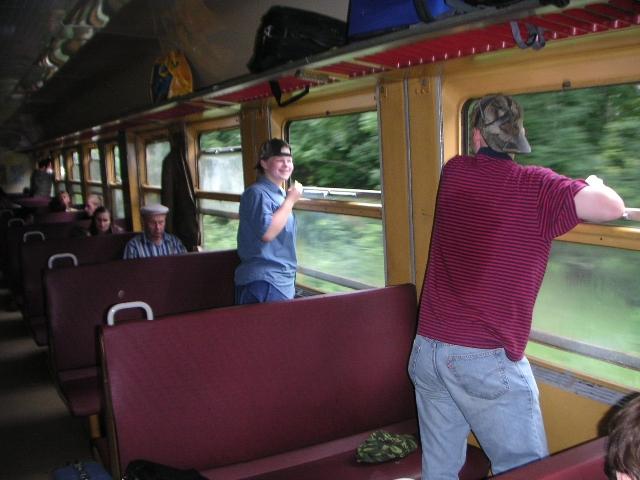 End of the rail
This sleeper train took us 500 kilometers from Bryansk to Cherkassy. The 11 hour overnight trip costs about $13 per person. Missionaries met us and took us out of town to the campground.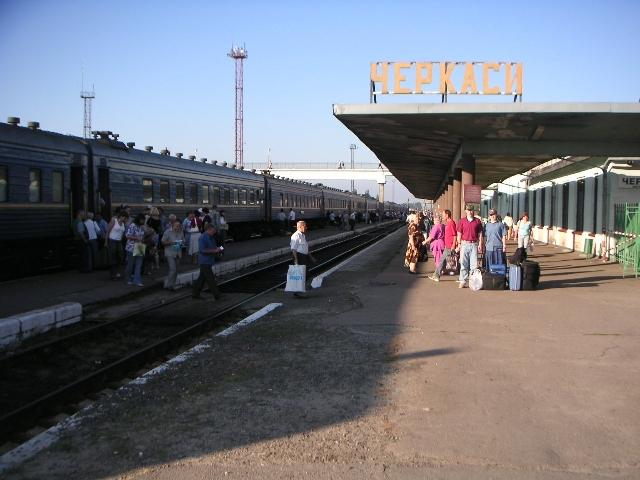 Parking lot
They came from all over Ukraine in cars, trains, buses, and vans.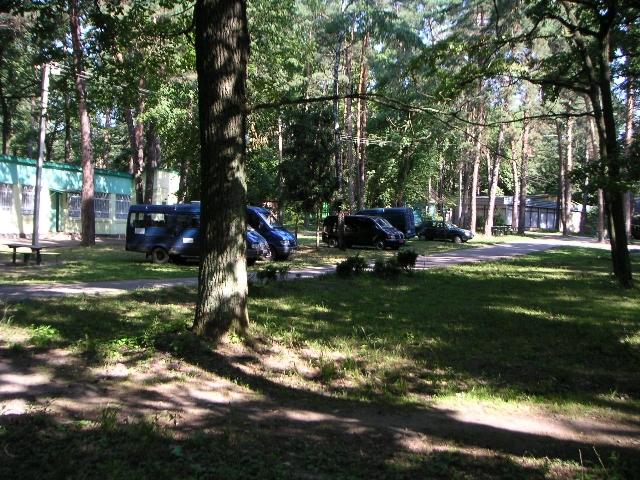 Ukrainian youth
About 115 campers came for the week. The girls sat on this side.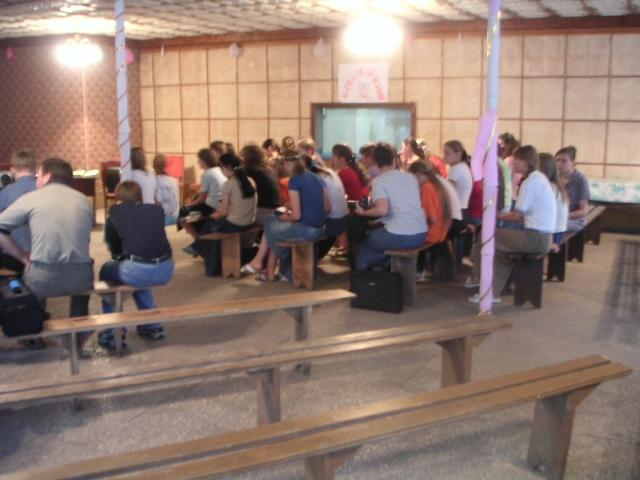 The boy's side
Most of these young people are saved and serious about serving the Lord.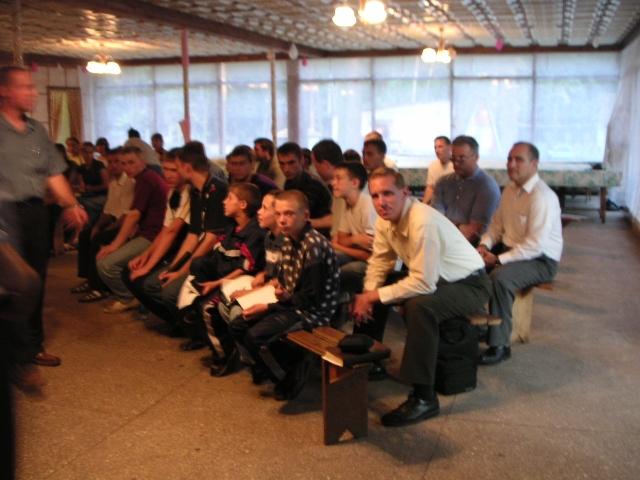 Ready for a great week
These kids come from missionary churches all over Ukraine. Their spirit is really good!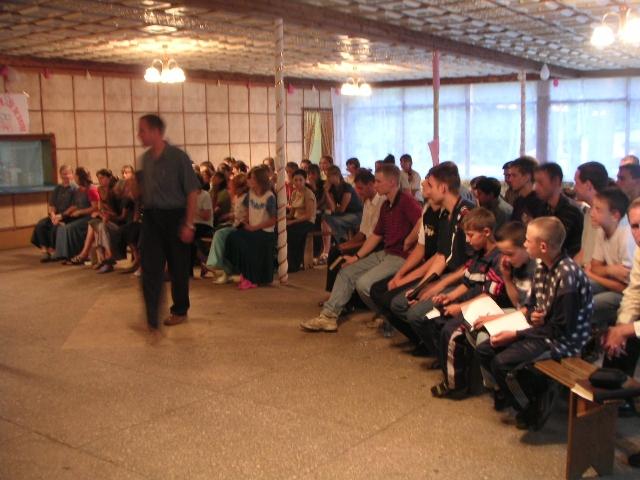 Praise the Lord
Many of the church groups prepared special music.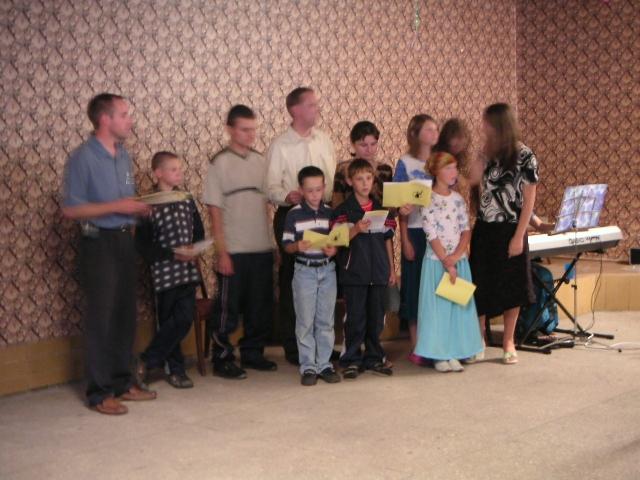 Special speaker
Our guest preacher for the week is Pastor Luis Ramos from Mexico.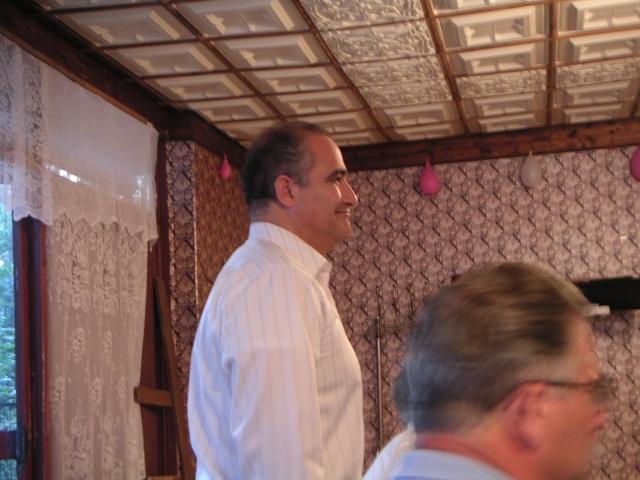 The "interrupter"
Bro. Ramos preaches in English, and our interpreter, Taras, gives us the Russian version. Taras is a good preacher!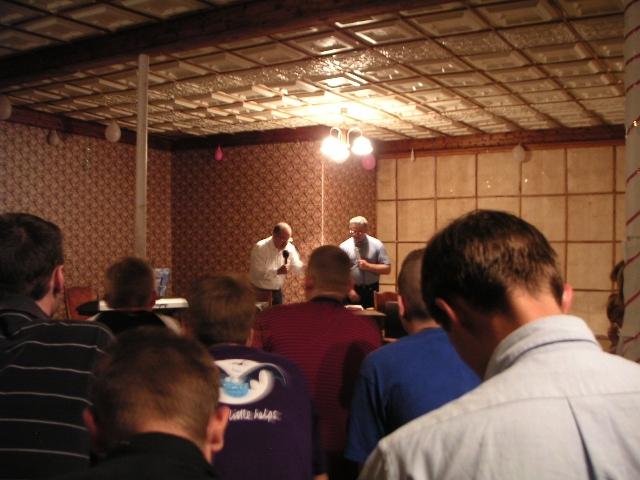 Lunch!
Missionaries love to fellowship around the table.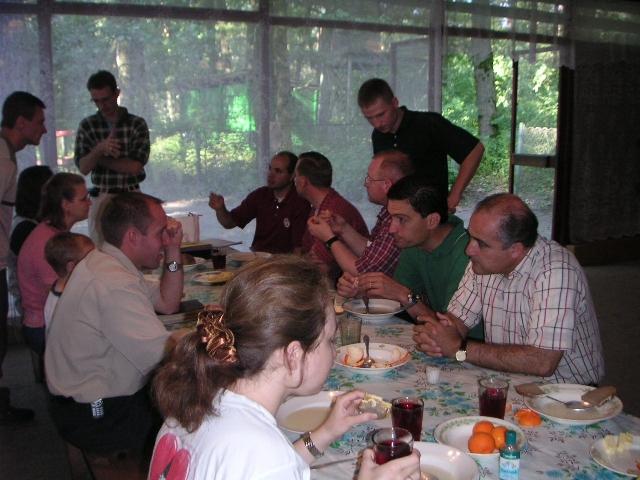 Shower house
The men's showers are in the green building on the left. The tower gives us water pressure. Simple, but effective.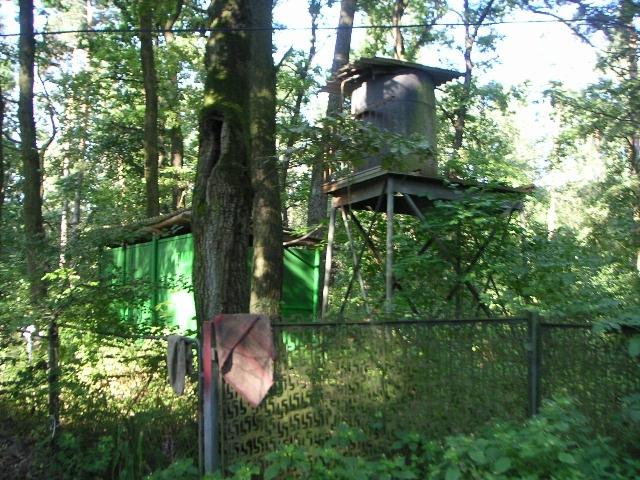 Wash your hands
Another effective Ukrainian-engineered system allows many people to wash up for dinner at the same time.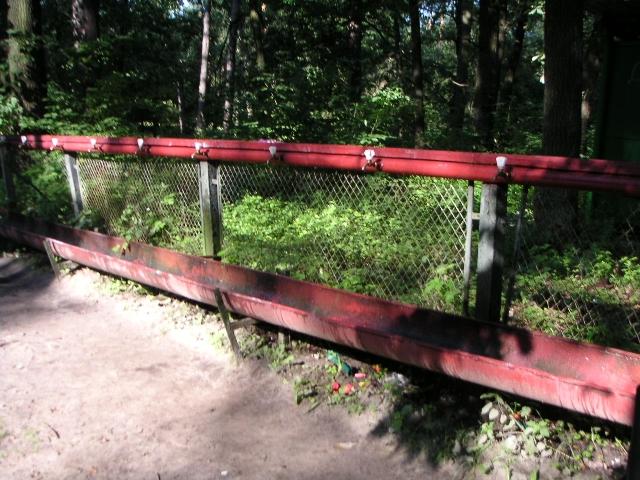 Men's bunk house
This campground used to be a Communist youth camp. The facilities are really quite nice.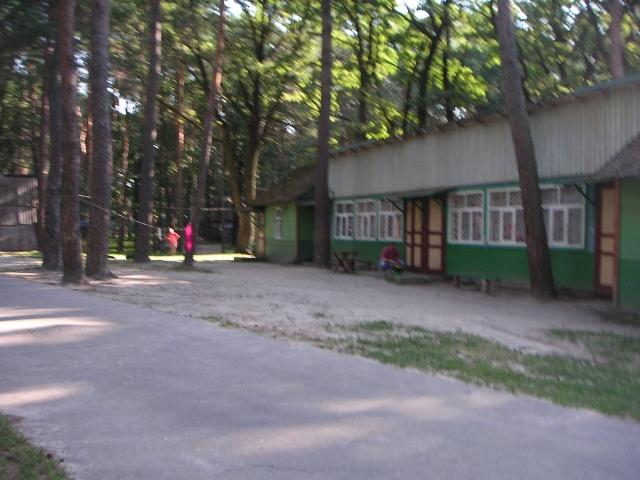 Recreation yard
Volleyball, ping pong, and basketball: enough to keep 115 kids busy and happy during free time.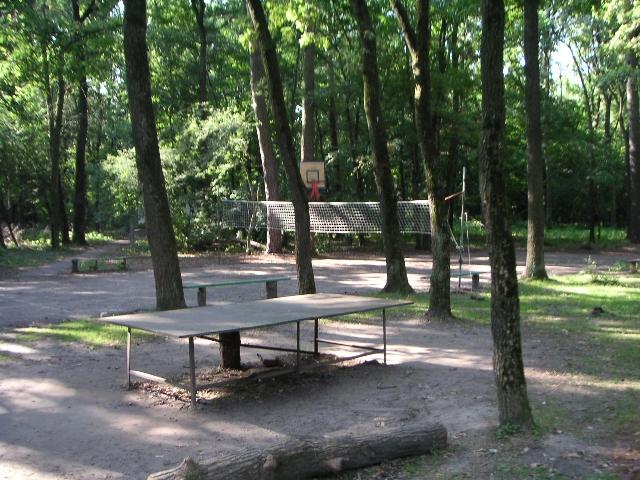 Playground
The younger kids prefer the swings, monkey bars, and climbing rope.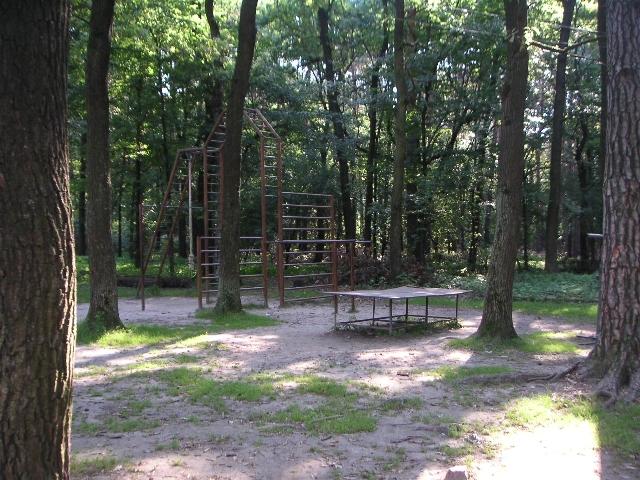 Snack shop
If you have a few extra kopecks, you might get a between-meal snack.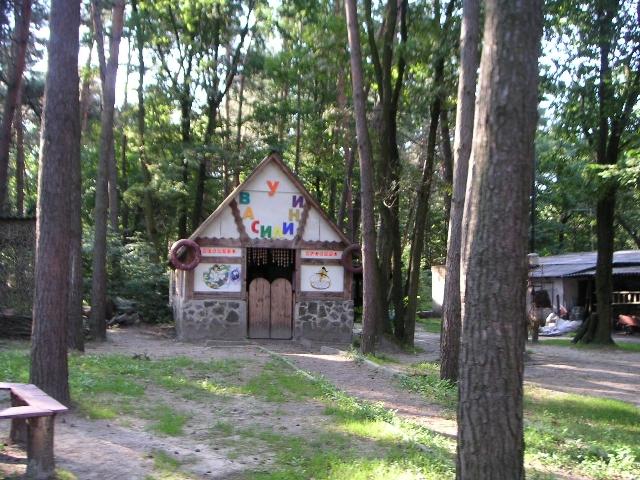 Fellowship
I enjoyed talking to Brother Ramos. He and I went to Bible college together - MANY years ago.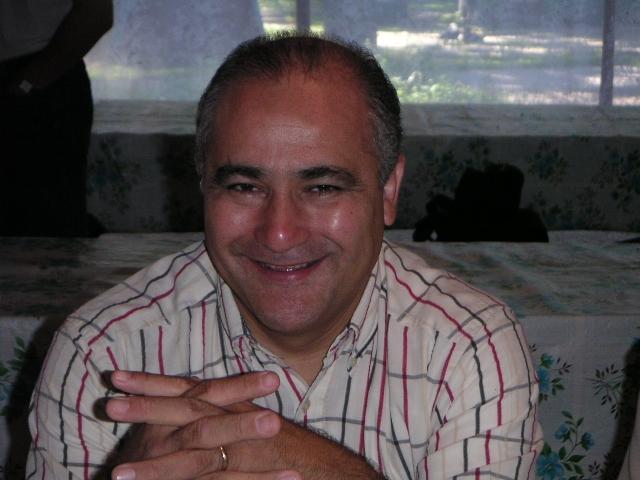 Team colors
The campers are divided into four teams: Red, Blue, Yellow, and Green.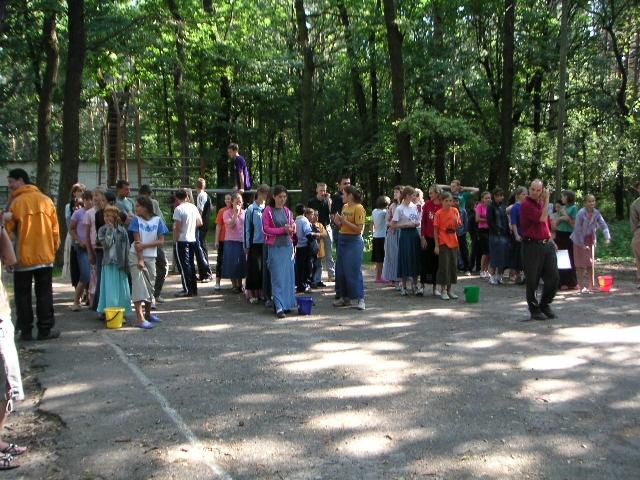 Clothes line
In this game, the teams will run a relay race to collect clothes pins of their own team color.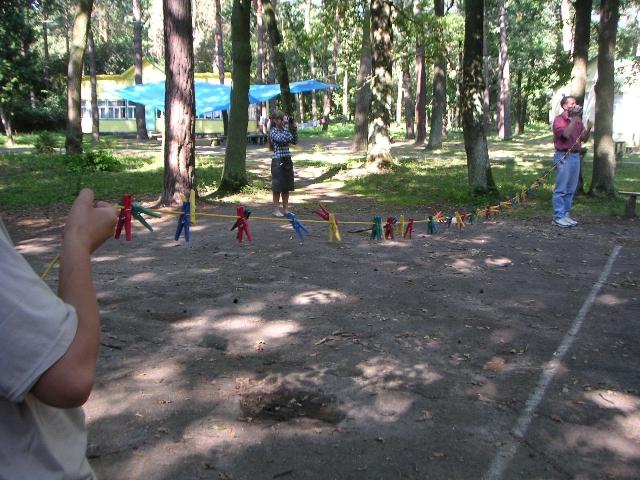 Full speed ahead
The first member of each team runs down to the line to get a clothes pin. Watch your head on that volleyball net!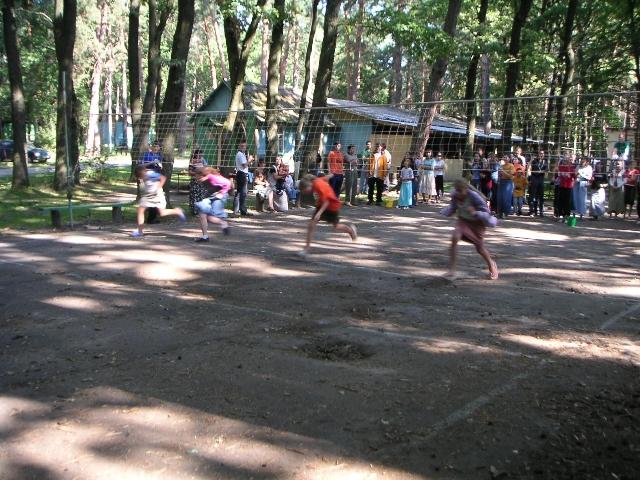 Look, ma, no hands
Did I tell you that you can't use your hands to get the clothes pin? Use your mouth!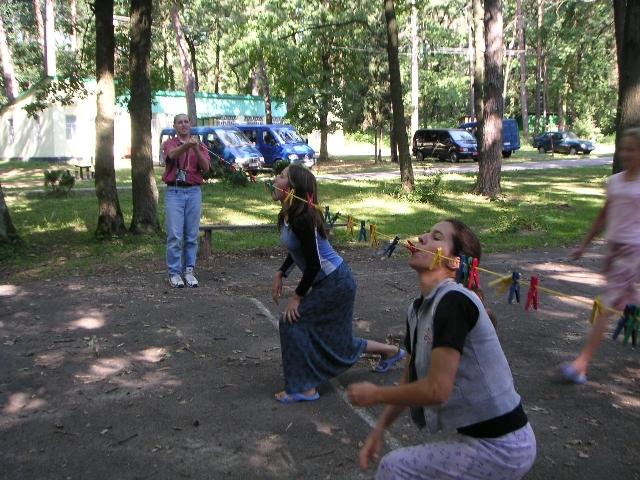 The boys' turn
Do you realize that clothes pin was in a girl's mouth a few minutes ago? Yuck!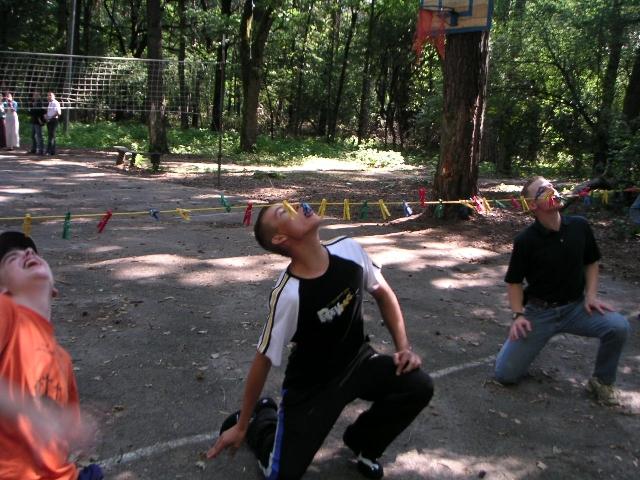 Congregational singing
They know all the songs and sound great singing with enthusiasm in different parts.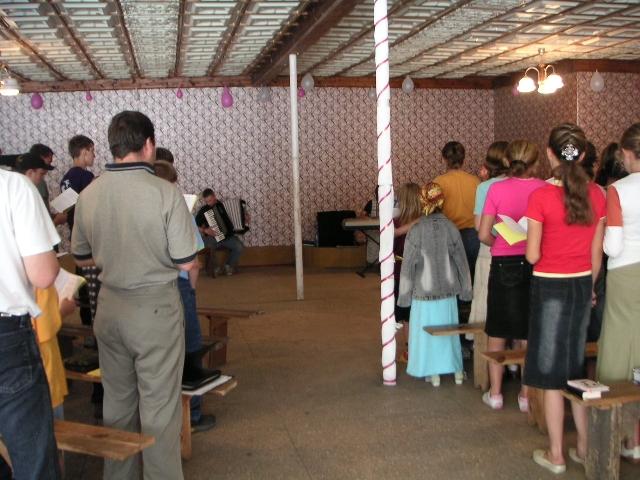 The musicians
Camp director David Sloan leads the singing while his wife Jolene plays the piano. Alan helps with his accordion.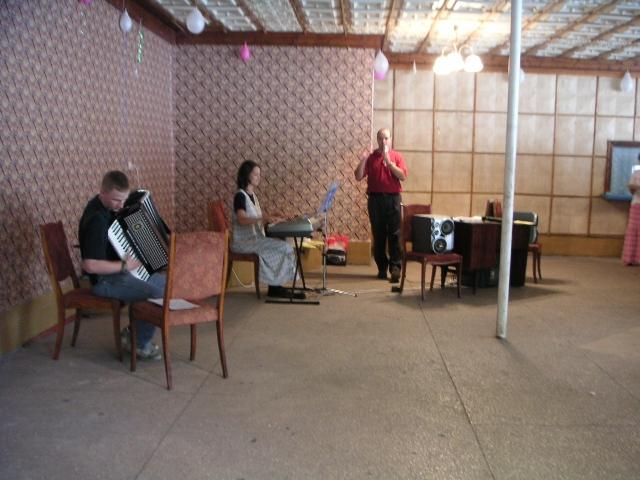 Special music
This group from a village church sounds great!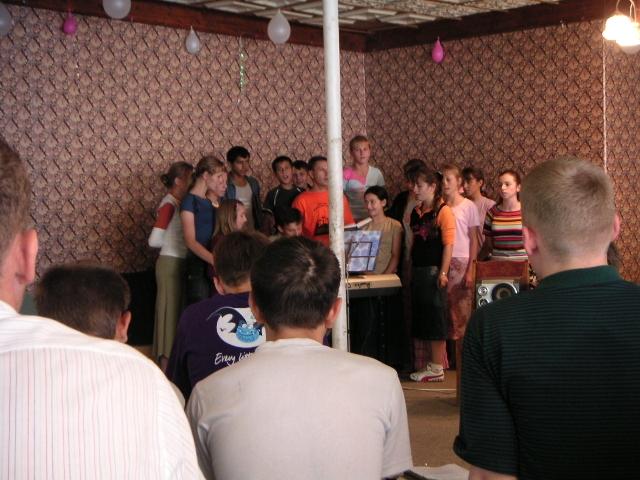 Preaching
Missionary Matt Hudson preaches an afternoon session and uses Alan for a sermon illustration.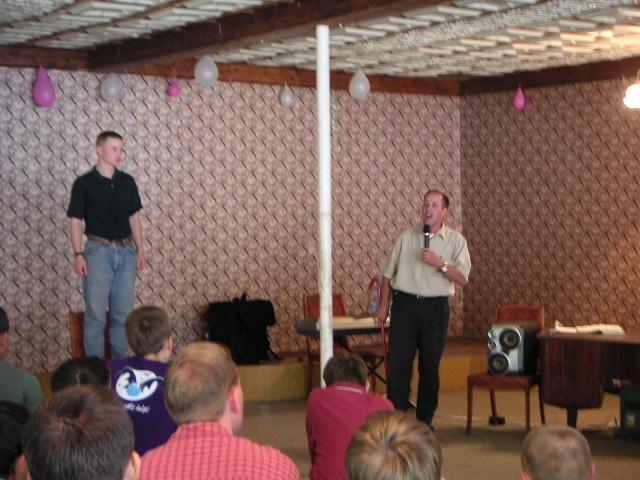 Bobbing for water balloons
In this team competion, you have to get a water balloon from a bucket of water with your mouth, and bring it all the way back to your team.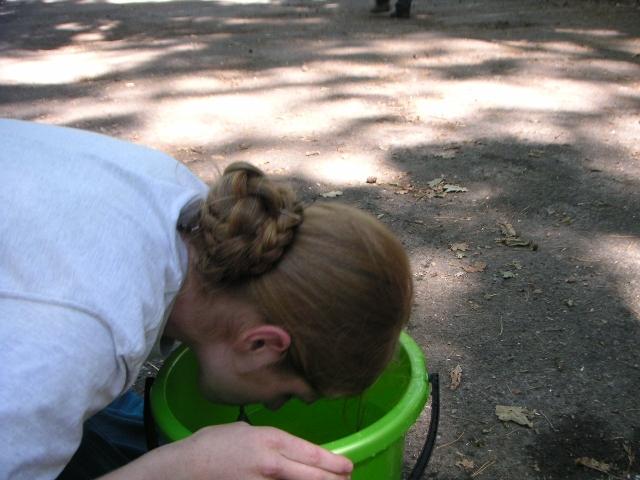 Don't drop it!
How does she do it? Now she just has to carry it in her mouth for 10 yards without breaking it.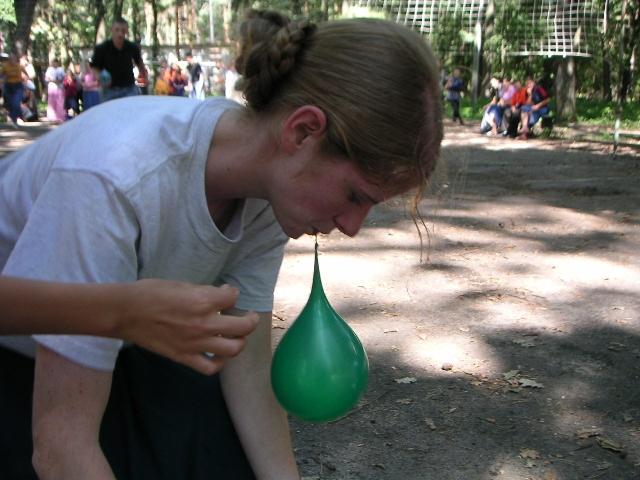 Yummy!
Missionary Rich Miller highly recommends the camp food.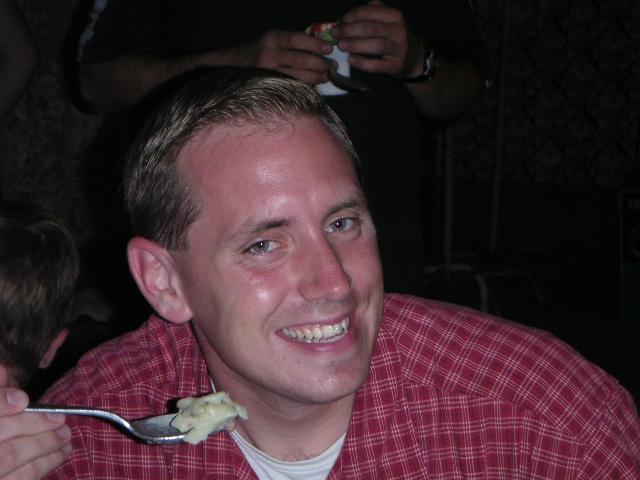 The camp director
Missionary evangelist David Sloan does a great job contacting all the different church groups and organizing the camp. His son Davey likes camp, too!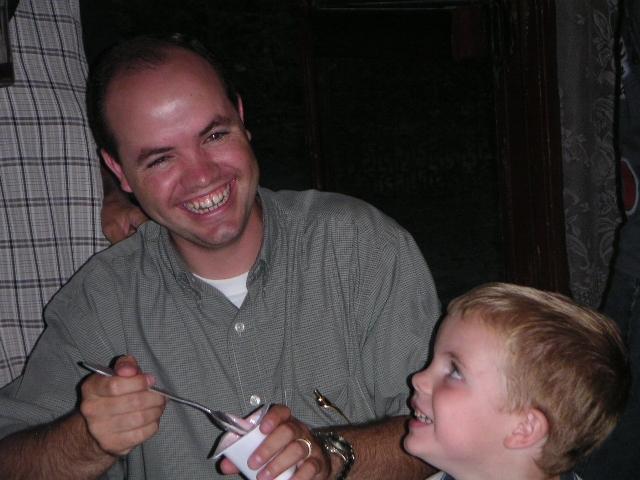 Special music
Alan, April, and I join a Ukrainian young man to sing a special number with the accordion.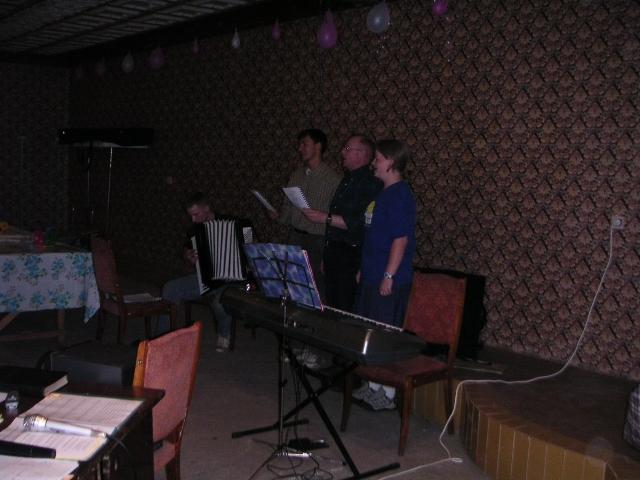 New friends
I really enjoyed getting to meet people like this Ukrainian youth leader. Young people who were campers a few years ago are now pastors and camp counselors.