November 30, 2016 - Supreme Court appeal
About a week ago, I gave the attorneys in Moscow all of the papers that they asked for, so that they could file an appeal in the higher courts. I wrote yesterday to ask them for a status update.
Here are the questions and answers:
How are things going?
- Things are going according to plan.
Is it correct for me to say that the case has been filed in the Supreme Court? Are they obligated to accept the appeal?
- Yes, the case has been filed with the Supreme Court. They have accepted the appeal for consideration.
In what time frame might we expect a decision?
- It will likely take about two months for them to reach a decision.
Will there be a trial hearing that I would need to attend?
- No, there will not be a hearing. The Supreme Court decides cases on their own. They may request information or documents if needed.
- We are now preparing the documents for appeal to the Constitutional Court.
The Supreme Court of the Russian Federation is the court of last resort in legal cases. They determine if the existing law was properly applied in previous court decisions. We are convinced that the law, as it is written, does not apply to the Bible study activity that was carried out in my private home. On that basis, we expect that the Supreme Court should overturn my conviction.
The Constitutional Court has a different purpose. They examine the law itself to determine if it violates the Constitution. We are convinced that this law's restrictions on religious freedom violate the rights that are clearly described in and protected by the Russian Constitution. This court has the power to declare a law unconstitutional, in which case the law becomes unenforceable, and government agencies are prohibited from implementing it.
Below is a picture of the actual appeal document. The stamp shows that it was accepted by the Supreme Court last Friday, November 25th. Please pray that the court will rule in our favor.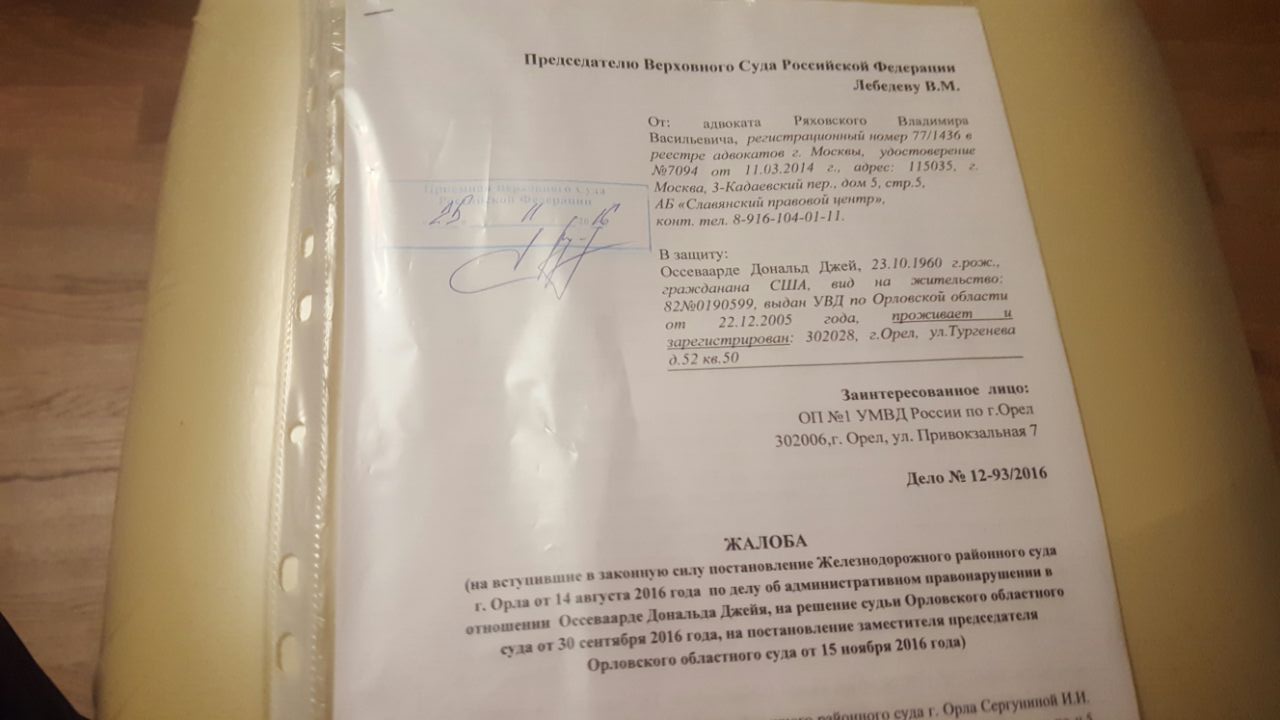 -- Supreme Court appeal --