December 19, 2016 - The first half of December
After my two trips to different parts of Russia to celebrate Thanksgiving with other missionaries, I needed to concentrate on the remodeling project at the church. The little back room which has been our storage room needs to be made into a little prophet's chamber. If our plans work out to continue the ministry in Oryol, we will need a place for visiting missionaries and national preachers to stay. If our apartment sells before I am done with my business here, I may need to stay there for a while. I was almost finished with the plaster repair, when it became obvious that the existing plaster on that wall is very unstable. Every time I touched the plaster, it would just crumble into dust. I decided to take the time to tear down all of the plaster and put up a sheetrock wall. It was an extremely dusty and dirty job. The wall is an old fashioned wood lath style that has interlaced strips of wood nailed to the subwall, and the plaster was applied to the wood strips. I tore down all the old plaster and the wood strips until nothing was left but the "log cabin" style wall. The broken plaster, dust, wood laths, and nails filled eight big construction garbage bags, each of them weighing about 50 pounds. It was several hours work just hauling the heavy bags down the street to the garbage dumpster. I was thankful for good quality dust masks, made by the American 3M company, which are available here in the hardware store. I still have more work to do on the room, but I have the steel studs in place for the drywall, so the dirtiest part of the job is over.
On December 7, I was preparing to go to Moscow to meet some missionaries who were coming to visit me for the weekend. During the day, two policemen came to my apartment door. They were young tough looking guys. They rang the bell and knocked repeatedly. I watched through the peephole but didn't open or say anything to them. They said "police" and showed an id card to the peephole. They looked irritated and said "Open the door!" After about 5 minutes, they went away. I notified the lawyer, and he repeated to me that police do not have the right to enter your home without permission unless they are sure that a crime is being committed. It is possible that they noticed that I took two trips to celebrate Thanksgiving, and maybe they wanted to ask me some questions about my travels. The Russian government is very suspicious of foreigners, especially Americans. It is hard for them to believe that an American would come to live in Russia just to share the word of God with people. They imagine that any American in Russia must be a spy who is secretly working to stir up revolution and overturn the government. The Russians are convinced that Americans, especially Hillary Clinton, were responsible for the protests in Kiev that forced out the pro-Russian president of Ukraine. My mission in Russia is strictly to share the Gospel of Jesus Christ. I have never engaged in politics, and I have never done anything against the goverment of Russia.
Late that night, when I was leaving to catch the train to Moscow, I had a hard time opening my apartment door. I discovered that someone had poured a transparent liquid glue on my doorknob, making it difficult to open. There were also two lumps of clay stuck to the door. One of them covered the keyhole, and the other was stuck to the edge of the door, so it would break when the door was opened. It was late, and I was in a hurry to catch a waiting taxi, so I just had time to think that maybe this was the work of hooligans. I quickly scraped off the clay so that I could lock the door, and went down to meet the taxi. On the way to the train station, I realised that the police must have put these things on the door to see if I am still living at this address. I wish I had taken time to snap a picture of the door as it was glued and sealed. I took a picture the next day when I returned. You can see the marks where the clay sealed the door and the keyhole.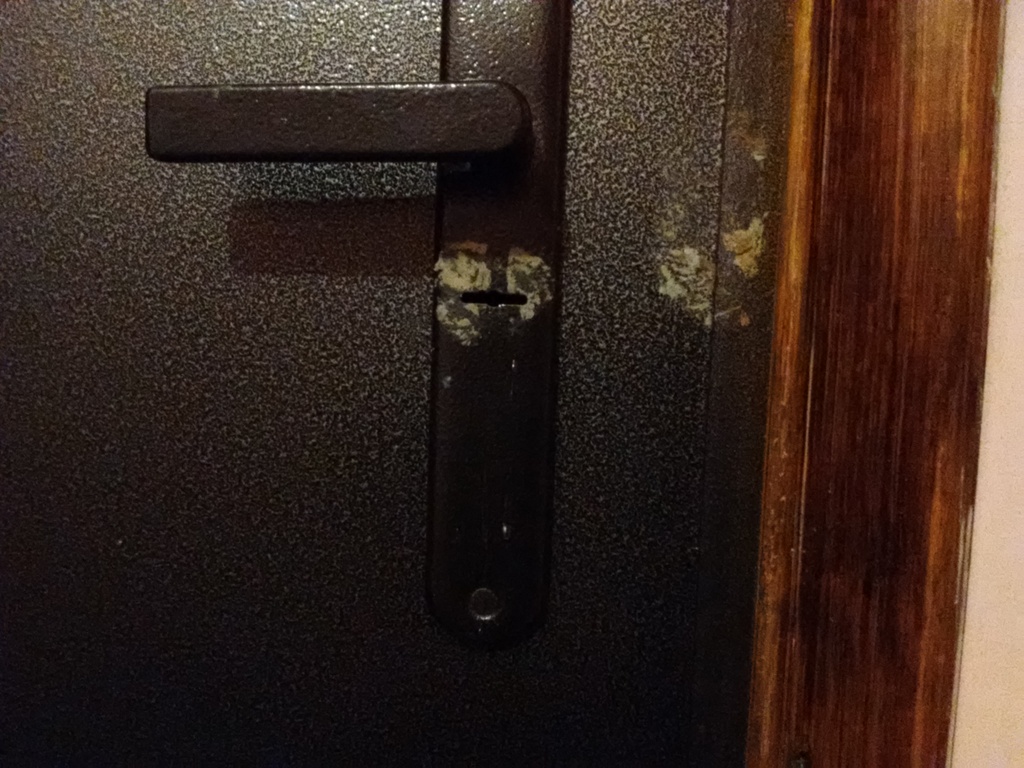 --clay marks on the door--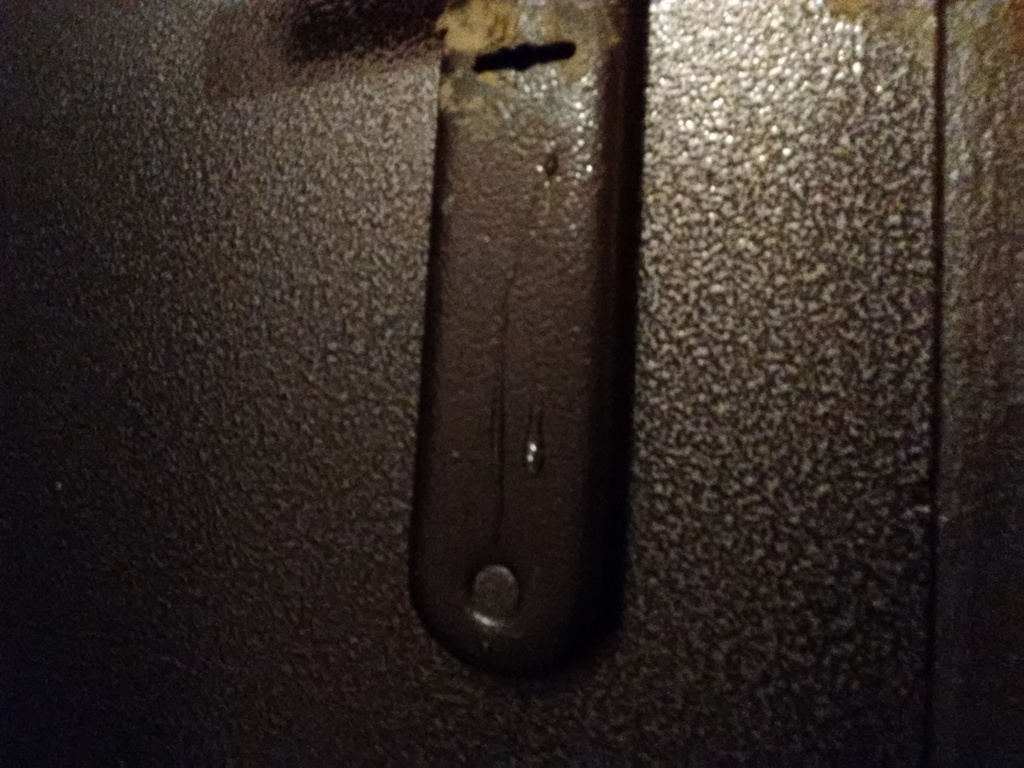 --I scraped off the glue that was at the base of the door handle, but you can see some that dribbled down--
I went to Moscow on the overnight train, but it was hard for me to sleep. The stuff on my door bothered me more than it should have. Since I couldn't sleep, I prayed, and the Lord settled my mind and gave me peace. I met the missionaries at the airport, and we had lunch at a new place called Brisket BBQ. The meat is smoky and delicious. The restaurant owner went to Texas to learn how to make smoked brisket and other barbecued meats.
After lunch, we met with my attorney to ask some questions. I told him how the police had visited me the day before. He told me, "I was surprised to find that police came to my door too! They knocked and knocked and frightened my son. He called me and I told him not to open the door." He told us that our case is filed with the Supreme court, but they have not yet scheduled a date for a hearing. Their website shows that my case is on their list of things to do.
The meeting with the lawyer took a little longer than I expected. I am usually very good at calculating the travel times on public transit in Moscow, but I knew we were cutting it close to catch the train to Oryol. We did our best, but we missed the train by three minutes. That was very embarrassing, but not a total catastrophe. We bought tickets on a later train and had a few hours to taste Krispy Kreme donuts and Starbucks coffee. I took advantage of the time, and called my friend Vlad. I led him to Christ several years ago in Oryol. I also led a young lady to Christ at about the same time, and they eventually married each other. They moved to Moscow a few years ago, so I don't see them much any more. He was glad to come and fellowship with us as soon as he got off work, and I think it was good for all of us to spend some time together.
On Sunday, December 11, I invited all of the church people to our apartment for a lunch and to discuss plans for future ministry. Almost everybody came. It was so good to have them all together again. We laughed and cried and ate lots of good food. With the other missionaries' help, I cooked up some tacos and lasagne and chicken and rice. We had chips and dip and tea and cookies, too. Everyone gave testimonies and there was a long question and answer time about the direction of the future ministry. They realize that it will require some responsibility and participation, and they are afraid of the unknown, but they all want to continue to study the Bible and serve the Lord together. I told them that I am quite sure that my time of ministry in Russia is almost over, and we shed some tears together. I told them that it was sad to see them weeping, but I guess it would have been even sadder if we left and nobody cried.
We will not be able to make definite ministry plans until the court rules on our case. It would be most convenient if the people could continue as before, meeting in the house. Depending on the court's decision, it may be necessary for the people to form a registered group or organization. The other missionaries have a lot of experience with those procedures, and their advice and guidance will be very helpful.
On Monday the 12th, I took the missionaries back to Moscow. On the same day, missionaries from another part of Russia arrived in Moscow to visit with me, so I was able to get all of the missionaries together for a meal. They were glad to get acquainted, and they were able to help each other to solve some very important questions.
The first group of visitors went to the airport to go home, and the second group came with me to catch a train back to Oryol. I was determined not to miss the train this time. In seventeen years on the mission field, I have taken the train hundreds of times, and I have almost never missed a train. My guests and I made it to the train station in plenty of time. Maybe I was tired and stressed out, but for some reason, I went to the wrong platform and waited for the wrong train. I thought I had time to go back into the station and get some food to go. To make a long story short, my guests were able to get on the right train, but I missed it! Now it was time to play a great Russian game called "catch the train with a taxi". The next time the train would stop was in the city of Tula, two hours later. I hired a taxi and we drove as quickly as we could. I beat the train by 10 minutes and joined my visitors for the rest of the ride to Oryol.
This missionary and his two sons came to Oryol to see our city and to help me do some work. The man and his two sons were very helpful. They helped me carry some drywall into the church, we worked together to clean out the garage, and we just had a wonderful time of fellowship. When we went to the mall for lunch, we were looking around the food court, deciding what to eat. A man walked up to us, and said, "Is your name Don?" I said yes, and he said, "I have been reading your website and following your case. I am praying for you!" He had heard about me from some missionary friends of his. My visitors were impressed that I was so famous. When I had visited their church for Thanksgiving a few weeks earlier, a Russian boy named Pasha greeted me and we were making small talk. One of the missionary children said to Pasha, "Do you know who you are talking to?" Pasha said no, and he was told, "This is Donald Ossewaarde." Pasha nearly jumped. He said "THE Donald Ossewaarde?? The one who is fighting for freedom in Russia?? WOW!" He vigorously shook my hand and told me he had been praying for me.
After my missionary friends went back home on December 15th, I became very sick and spent the entire weekend in bed with a bad cold. By Monday evening, I was feeling much better.